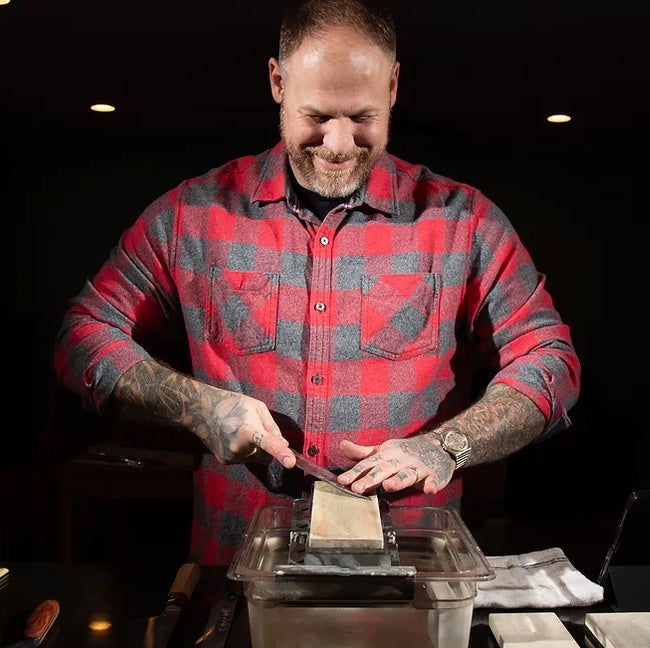 Water Stone Sharpening for Jack Wolf Knives
In collaboration with Corey Dunlap, Master Sharpener and Bladesmith, we now offer water stone sharpening for your Jack Wolf knife!  
Corey has sharpened more than 100,000 knives over the last decade. I trust him with my personal knives which is why I trust him with yours.
Many brands will sharpen your knife rapidly with an abrasive belt. However, for the best possible edge, the knife should be meticulously sharpened on a variety of water stones via the hands and eyes of an expert.  
Grits range from 140 to over 10,000, to achieve the perfect edge.  
Included are: sharpening of one knife, return shipping via USPS First Class Mail, and insurance valued at the retail price of your knife.  This service is only available in the United States.  
Minor repairs, such as small chips, edge rolls, and tip breakage are taken care of at no additional charge.    
Not included: Postage and Insurance to get the knife to me.  
The knife will be sharpened within 3 business days of receipt and then mailed back to you in the box you sent the knife in.  
Download and print the Shipping Instructions form by clicking HERE. Read the instructions and fill in the blanks. Make sure to include this form in your box.
If you have more than one knife to send in, please email me at support@jackwolfknives.com so I can create a custom invoice for you.  
NOTE: This service is only for Jack Wolf Knives.  If you have other knives you want sharpened, please visit Corey's website by clicking HERE as he can do that for you separately.